Jayne Faversham, President, welcomed everyone to the meeting which commenced with a resume of past and present events.
Last month, the Group meeting in Wendover was well attended and also the very enjoyable walk on a lovely autumn day organised by Barbara Aris around Ley Hill.
The last walk of the season, this time along the Thames in London, will have taken place on 21st November.
The Christmas Party will be on 12th December, 7.15 for 7.30pm. Tickets at £7.50 should be purchased from Mary Collins by 30th November. A request was made for eight volunteers to provide deserts. The Committee will provide the main course.
January 9th at 8pm will be the first meeting of the New Year and is also the actual 50th anniversary of the Evening Group. A representative of the chosen charity for this year, the Chiltern MS Centre in Wendover, will attend to accept a cheque for the funds that have been raised.
However, in case of inclement weather and winter illnesses, the official Golden celebration with dinner and entertainment will be held on the evening of 10th April.
On 25th January a theatre outing with lunch at Sonning has been booked and on 15th April the Beechwood Group Spring meeting will be at Ballinger.
A request was made for one or two more Committee members and Linda Drummond and Pam Epps agreed to be co-opted if required.
The AGM commenced with Jayne Faversham volunteering to be re-elected as President. She thanked the Committee members for their support during the year, particularly Mary Rose as Secretary and Mary Collins as Treasurer.
Barbara Aris was thanked for all her efforts in arranging the very enjoyable monthly walks (and pub lunches) which had so far raised £73 towards the charity.
Mary Collins presented the financial statement. The annual report giving details of all the outings, events and speakers that had been enjoyed during the year was proposed and adopted.
Margaret Dunn thanked Jayne for her sterling work during the past year.
Before a delicious tea, brains were tested with an amusing Quiz and purchases made at the Bring and Buy table.

Gillian O'Flynn

President, Jayne Faversham, gave a warm welcome to a guest and two prospective new members on the first really cold night of autumn.
The charity coffee morning held at Ruth Coulton's house was very well supported and made £100 including donations.
The Christmas party with a hot fork buffet and entertainment will be held on the evening of 12th December. Tickets will cost £7.50 and should be purchased by 30th November. Volunteers to provide desserts would be much appreciated.
The 50th Anniversary of the Evening group is actually on 9th January 2014 for which the refreshments will have a sparkling golden theme. However, in case of bad weather in January, the main party will be held on 10th April with special entertainment and a caterer providing a hot fork buffet. Tickets will be available next January
Ray Challinor sent in forms for a petition to request an increased bus service to the village. At present, the bus only gives one hours shopping time in Chesham.
It was announced that next years subscription will increase by £1.70 to £34.70.
The speaker for the evening, Amanda Rayner, was dressed in an appropriate costume to speak about "The Language of Fans".
She demonstrated the intricate and creative art of communication with numerous movements and positions of the fan without actually speaking. This was considered vital in the days when young ladies at social occasions, such as a ball, wanted to send a message to a young man without the chaperone knowing!
We were shown on slides and an album many beautiful and valuable fans from the last two or three centuries. The earliest were flag fans on a stick from the 12th century.
Fans were made out of a variety of materials and had many uses. Hand screens or fans were used to shield the faces of the ladies when sitting near fires in the cold weather. It was considered most undignified to have a red face from the heat!
The next walks will be firstly on 24th October meeting at 11am on the Common at Ley Hill for a 4 mile walk followed by lunch at The Crown.
The second walk will be on 21st November for a walk along the River Thames in London from Hammersmith Bridge to Putney Bridge and lunch, then on to the Bishop's Garden and Fulham Palace Gardens. Altogether this will be a 5 mile walk. Those interested should meet at Great Missenden Station in time to catch the 9.25am train.
The next meeting on 14th November at 8pm will be the AGM followed by a Bring and Buy sale. If anyone would like to join the Committee for the coming year, they would be most welcome.
Gillian O'Flynn
After the summer break, Vice President Christine Richfield-Andrews took the meeting in the absence of the President and a number of other members who were on holiday.
Everyone who so kindly helped to make a success of the summer barbeque was thanked, and especially Margaret Dunn for a splendid venue. Even a few heavy showers of rain did not dampen the spirits!
Some forthcoming events were announced including a coffee morning at Ruth Coulton's house on 25th September from 10.30 to 12.30. Profits will go towards the charity, the Chilterns MS Centre at Wendover.
The next walk will be on 26th September meeting at Hyde Heath village hall at 10.30am for lifts to The Cricketers, Sarratt to start a 4 mile walk through beautiful countryside with lunch afterwards. Details of the following month's walk on 24th October will follow.
The Beechwood Group Meeting will take place at Wendover at 7.45 for 8pm on 15th October. Chris Behan, author of "Exploring Midsomer" will be the speaker. Tickets will cost £3.50.
The arranged speaker for the evening had to withdraw so members tested their knowledge with a Quiz and enjoyed a relaxing chat over delicious sandwiches, cakes, coffee and tea.
The next meeting will be on 20th October when Amanda Rayner will talk about "The Language of Fans". The competition will be a Fan.
Gillian O'Flynn
Jayne Faversham, President, welcomed all members plus two visitors to the July meeting. The new plaque detailing the embroidered wall hanging has been erected.
The next walk will be on 25th July, meeting at The White Lion, St Leonard's at 11am. To share lifts from Hyde Heath, please meet at the Village Hall at 10.40am.
Other forthcoming events include a Bowls afternoon with tea, as guests of Wingrave WI at 2pm on 7th August. On the following day an outing to "the Thatched Garden (entry £4), which was Enid Blyton's home, in Bourne End with lunch beforehand at 1pm at The Spade Oak.
The summer BBQ will be at 6.30pm on 15th August at a cost of £7.50. Margaret Dunn has again kindly agreed to the use of her garden. Please take with you a chair, cutlery, crockery, glass and drink. Donations of raffle prizes will be much appreciated.
Ruth Coulton is hosting a coffee morning at her home on 15th September.
The Autumn Beechwood Group meeting will be on 15th October in Wendover when Chris Behan will talk about Exploring Midsummer.
Next year, a trip to The Mill at Sonning to see Alan Ayckbourne's "Absurd Person Singular" will take place on 25th January 2014. The cost will be £39.50 to include a 2 course lunch. £20 deposit is required by the end of July.
The speaker for the evening was Mr Edward Dixon who gave an illuminating talk and slide show on Postcards of the First World War.
Postcards were first printed in Europe from 1850-55 but Britain did not use them until after 1870. The early ones were without pictures and had the stamp printed on them. Picture postcards were introduced in 1894. The hobby of postcard collecting is called "Deltiology".
During the First World War postcards were an invaluable method of communication between the soldiers and their families but they were censored in case too much information was given. 1,600 letters a day were dispatched by the Post Office to and from the war zone.
Printed cards were issued to soldiers with tick boxes because they often had no time to write when they were on field service.
The next meeting will be at 8pm on Thursday, 10th September in the Village Hall when Irma Dolphin will talk about her life in the village. The competition will be Indian Patterns.
Gillian O'Flynn
President, Jayne Faversham, welcomed members and a guest to the June meeting, and introduced Caroline Arnett, Dementia Support Worker, and Judi Jenner, Volunteer Befriender, who gave a presentation on "Understanding Dementia and Living Well With It".
Many people suffer from memory problems due to age, tiredness, stress, depression and sometimes side effects from certain medication. We have all gone upstairs and forgotten what we went up for!
However, sometimes memory loss, combined with mood changes and confusion can be an early sign of dementia. This is caused by a number of different diseases of the brain, including Alzheimer's disease and vascular dementia.
Correct diagnosis sometimes takes a long time and subsequently medication, guidance and support is not given early enough. The local Alzheimer's Society is based in Aylesbury with carer support groups meeting also in Amersham, Buckingham and High Wycombe.
Members did not realise that there is a dementia café in Chesham too which offers the opportunity for sufferers and their carers to meet in an informal setting. It has been found that singing is very good for the brain and groups meet in Beaconsfield and Aylesbury.
This was a very informative talk and gave guidance and insight into people suffering from dementia.
The village Fete was very successful and thanks were given to Margaret Dunn for organising the teas and cakes served in the cricket pavilion. Over £700 was raised. Thanks also to Sandra Stevens for the beautiful flower arrangement in the Church. A letter of thanks had been received from Sarah Hortop, one of the organisers.
A report about the visit made to the National Federation of WI's in Cardiff by the President of the Chesham Bois WI was read out.
The Summer Ramble and light supper on 17th July will be the first major fund raising event of the year for the charity, Chilterns MS Centre. Tickets will be £6. Walkers should arrive at the Village Hall at 6.15pm and supper will be served from about 7.45pm. Non walkers are very welcome.
Barbara Arris has issued an invitation from the Wingrave WI for an afternoon of Bowls and tea starting at 2pm on 7th August. Cost £4.
The next walk of 4 miles will be on 20th June meeting at The Greyhound Pub in Aldbury at 10.30am. The next meeting will be in the village hall at 8pm on 11th July when Edward Dixon will speak about Postcards of the First World War. The competition will be "First World War Memorabilia".

Gillian O'Flynn
This year funds are being raised for the Chilterns Multiple Sclerosis Society based in Wendover. Jo Woolf, the Chief Executive, visited the Group to tell members about their bespoke new building and where they give a holistic approach to different treatments, together with emotional support as well as practical help.
MS is termed a "young disease" as the majority of patients develop the illness under the age of 50. There is no known cause and very sadly, no known cure so it is a question of managing the symptoms.
Anyone can go to the Centre, but are usually referred by their Doctor.
Ruth Dunkin from the Stroke Association then spoke about the Stroke Awareness campaign which has been advertised on the television. Members were given the opportunity to have their blood pressure taken.
Many thanks were given to Mary Collins, Doreen White and Janet Manson for organising and running a stall at the Denham car boot sale and to Anne Lloyd Jones who held a coffee morning last month raising much needed funds.
Thanks too to everyone who supported the Beechwood Group meeting at Hyde Heath two weeks ago with delicious refreshments.
The speaker, Liz Shepherd held everyone's attention with her demonstration of planting a hanging basket while giving the history of how she and her husband changed careers to start a nursery garden some years ago. Members also had the opportunity to buy some of the many plants which decorated the hall.
A reminder was given that on 17th July the Summer Evening Ramble and Supper will take place. The walk will start at 6.15pm with supper on return at about 7.45pm. The cost will be £6.
The following month a Summer Barbeque will be held in Margaret Dunn's garden on 15th August.
The next walk of 4 miles will be on 23rd May meeting at the Village Hall at 10.20am to go on to Chalfont St Giles car park. Lunch will be at Merlin's Cave. £1 is donated for the privilege of walking or just lunching.
The next meeting will be at 8pm on 13th June when Judy Jenner will talk about "Understanding Alzheimers". The competition will be a money box.
Gillian O'Flynn
President, Jayne Faversham, gave a warm welcome to a new member, a guest and larger than usual numbers of members at the April meeting.

Congratulations were given to the Quiz team of Judith Butt, Avril Sherratt and Di Thompson who did tremendously well achieving 4th place.
On 24th April from 10.30am, Anne Lloyd Jones is holding a coffee morning with raffle and bring and buy sale at her home.
The Beechwood Group Meeting is being held at Hyde Heath 7.45 for 8pm on 1st May at a cost of £3.50. Liz Shepherd of Shepherd Nurseries at Chartridge will be giving a talk and demonstration of planting hanging baskets. There will also be plants for sale.
The Hyde Heath Fete is on 11th May when cakes and help will be needed to serve teas.
Next year will be the Fiftieth Anniversary of Hyde Heath WI and ideas for the celebration were invited.
Tom Way gave a fascinating and informative talk and slide show on Wildlife on your Doorstep. Although at university he studied sports education, he decided two years ago to concentrate full time on his hobby of wild life photography.
He has since travelled around this country and abroad taking stunning photographs and also running workshops on wildlife photography both at his home in Iver and in Zambia.
The audience was very impressed at how much effort was required to capture some of the animals and birds, one time lying in the snow in the Highlands of Scotland for many hours to get the most incredible pictures of a red deer with magnificent antlers, which seemed to be coming straight towards him.
When trying to photograph Puffins around Skoma Island, he was only satisfied with three out of 6,000 photos taken, and an Osprey was caught catching a fish after he waited patiently by a lake for five days!
Members were able to buy their favourite photos from a beautiful selection of cards and pictures.
Next month's meeting will be at 8pm on 9th May when Jo Woolf will speak to us about this year's charity, the Chiltern MS Centre. The Resolutions will be discussed followed by Ruth Dunkin from the Stroke Association. The competition will be a Piece of Lace.
Details will be given next month about a walk around Chalfont St Giles on 16th

Gillian O'Flynn
President, Jayne Faversham, thanked Christine Richfield-Andrews for taking last month's meeting in her absence on holiday.
The Chiltern MS Centre based in Wendover was delighted to hear that they are the chosen charity for fund raising this year.
All donations for the car boot sale which will be on 13th April should be given to Mary Collins by the beginning of April.
Anne Lloyd Jones will be holding a coffee morning with bring and buy sale on 24th April.
There is a change of date for the Beechwood Group Meeting which will now be at 7.45 for 8pm on 1st May which Hyde Heath is hosting in the village hall. The cost will be £3.50 and volunteers were requested to make rounds of sandwiches with the Committee members providing cakes.
A volunteer was requested to make an arrangement on behalf of the WI at the St Andrews Church Flower Festival being held on 11th and 12th May.
Margaret Dunn requested volunteers to make cakes and help with the teas in the cricket pavilion at the Hyde Heath village fete on 11th May. It is always busy but good fun and raises a lot of money for the village.
A letter of thanks and best wishes was received from Audrey Begg, retired long time member of the Group.
Members were dazzled by an amazing display across three tables of beautiful pearl necklaces, bracelets and earrings which the speaker for the evening, Frances Benton, had arranged. She gave us a very lively and fascinating talk about her passion for pearls.
Frances travels the world as a consultant to two orchestras so has an opportunity, when she visits countries that have pearl markets, to indulge her hobby of buying and then making cultivated or natural pearl jewellery to sell.
Pearls grow in oysters or muscles, which have been known to live up to 145 years, producing pearls all the time. Because pearls are basically chalk, they can be dyed and some necklaces were very brightly coloured.
However, members were warned that when wearing pearls, perfume, acidity in wine and hair spray can permanently damage or even dissolve the chalky pearls!
Mother of pearl comes from the highly polished shells of molluscs. Before 1896 all pearls were natural and it could take 10,000 oysters to find just one pearl, hence they were only obtainable by the extremely rich.
Next month's meeting is at 8pm on 11th April when Tom Way will speak about "Wildlife on your Doorstep". The competition will be a wildlife photograph.
Gillian O'Flynn
Vice President, Christine Richfield-Andrews, took the meeting in the absence on holiday of the President and requested suggestions for a charity project for this year. Various nominations were made and the Chilterns MS Society in Wendover received the majority of votes.
A very appreciative letter had been received from the South Bucks Hospice thanking everyone for their fund raising efforts over the last two years. As part of our donation a paving stone with Hyde Heath WI's name on it will be included in the hospice garden walkway.
The team of Di Thompson, Judith Butt and Avril Sherratt will compete in the County Quiz in Great Missenden on 28th March.
There are a number of forthcoming events for the year, including the BFWI Annual Council Meeting will be held on 17th April at the Waterside Theatre in Aylesbury. The guest speakers will be Michael Portillo and May Kidd, ACWW World President, and the Joyful Divas WI choir. A delegate will attend and Observer tickets are available at £11 each for other members.
Following their very successful fundraising efforts last year, Mary Collins and Doreen White have requested donations of any items to be sold at the Denham car boot sale next April.
It is Hyde Heath's turn to host the Beechwoods Group Meeting on 25th April. The speaker will be Liz Shepherd of Shepherd Nurseries at Chartridge who will give a talk and demonstration of plantings and hanging baskets.
Margaret Dunn has again kindly agreed to organise teas and cakes for the Hyde Heath fete on 11th May for which all cooks are requested to make as many cakes as possible!
The Summer Evening Ramble and supper will be on 17th July followed on 15th August with the Summer Bar-B-Q in Margaret Dunn's garden.
Richard Bignell then took members on a delightful journey via a slide show through the different seasons in the countryside of the Thame Valley and regaled us with many anecdotes and amusing tales of his life in the area.
The next meeting will be at 8pm on 14th March in the village hall when Frances Benton will speak about "Passion for Pearls". The competition will be "something pearly".

Gillian O'Flynn
The new President, Jayne Faversham, wished everyone a happy new year, welcomed two new members and then introduced the new committee.
Susan Bosher of the South Bucks Hospice was presented with a giant sized cheque for £1,050 by the previous President, Barbara Aris. The funds had been raised over a 2 year period and will go towards a purpose designed building on a new site. Clare Balding is the patron of the Butterfly Walk Appeal.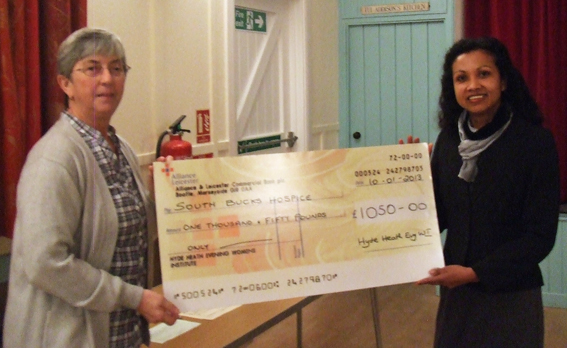 The Christmas Hamper raffle raised £38 for the charity. The Christmas party was very much enjoyed with a delicious meal and musical entertainment, although sadly the singer was unable to attend due to laryngitis.
A new charity for the forthcoming year will need to be chosen so members were requested to put forward suggestions at next month's meeting. A letter had been received from Denman College to say that fund raising had gone really well with increased bookings for courses so they were expecting to keep going for many years! Volunteers are needed for the annual Quiz team to be held on 28th March in Great Missenden.
A BFWI trip not listed in the January Buckinghamshire WI News was announced "Invention and Discovery" on 13 March from 10am to 3pm in Aylesbury at a cost of £12. It has been organised to coincide with National Science & Engineering Week. Anyone interested should contact Mary Rose as soon as possible.
Felicity Beynon announced that sadly the country market which was held every Friday morning in the Free Church in Amersham has had to close as there were not sufficient committee members to organise it. It had taken place for many years selling home produced foods and crafts, originally under the title of WI market.
Voting took place for this year's Resolutions followed by a fascinating talk and slide show given by Neil Rees on "The Social Story of Women in the Pulpit". In particular, he had researched a lady called Miss Bessie Bangar who had moved to Chesham in 1910 with her twin sister at the age of about 27. She had trained at St Hilda's, Oxford during the First World War when, due to a shortage of men, the then Bishop of Oxford, Charles Gore, had suggested women should be licensed to be lay readers or preachers.
She served in the church in the surrounding area for 70 years and also organised a variety of clubs for women including a cricket club and founded the Ley Hill WI . She died at the age of 97 in 1987. During his research, Neil discovered that women have been taking a dominant part in the church since 1648 when the Quakers were the first group to have women preachers.
The next meeting will be at 8pm on 14th February in the Village Hall when Mr Bignell will talk about "Country like this – River Thames and the Valley". There will be a sales table.
Gillian O'Flynn