The final match of the season is always a nerve jangler, memories of this match will stay with us until late April!
We got off to a good start, winning the toss and inviting Ivinghoe and Pitstone to have a bat on what looked like a low scoring wicket. Jeremy took the new ball for the first time in a few years, and repaid the skipper's confidence with a very tidy spell, taking two wicket and conceded just 24 runs in his eight overs. Umar supported him well with the new ball and Ben and Adnan came on to chip away at the wickets, which fells at regular intervals. We bowled them out for 158, which felt slightly under par.

The August bank holiday brings the Bank of England to the Heath as part of their annual tour. We arrived in the pouring rain, and took shelter in the plough for an hour until the clouds parted and we had beautiful conditions for the rest of the day.


Given the downpour, it was a good toss to win, which we did and asked the Bank to have a bat. We bowled and fielded impeccably. I can hardly remember a loose ball in the first ten overs or so and not a misfield all afternoon. Umar bowled short, aggressive spells. Fiddy a long and successful one, taking three wickets, including a lovely middle stump yorker. Adnan's variations in pace bamboozled the batsmen, creating two stumpings and an LBW. Dom added to his stumpings with a neat direct hit run out from square leg, and Liam took a stunning diving catch at gully.
The highlight of our fielding innings was perhaps the return of the Jez. Jez's infamous yips have been the cause of much merriment since his 17 (was it 17?) ball over a few years ago, but there can be no doubt that the team has hugely missed his overs, and his uncanny ability to take bucket loads of wickets. Charlie demanded Jez give the seamers a go, rather than his more recent off spin. The first over was fine, second good and by the third it was the Jez of old, hooping outswing, deadly accurate, and just a bit quicker than the batsman expects. He ended with excellent figures of 7-1-17-2.
All of that sterling work meant we bowled the Bank out for 98, setting ourselves up for a simple run chase, you'd have thought. Three ducks in our top four kept Bank in the match, but Shrimpy (39) kept the scoreboard ticking and Spencer joined him and made batting look easy, cruising to 48 not out, and finishing things off before we reached the final 20 overs.
The Brian Hartley Cup, named in memory of a great friend to both sides, therefore returns to Hyde Heath. We retired to the Plough to enjoy Bank's traditional fancy dress efforts.
.... and afterwards - Disney Nights !


Dom Haddock

A very local fixture this week as we played old friends Ley Hill CC. As is becoming rather frequent, we lost the toss and were asked to bat. Thanks mostly to good, hard running Dom and Henry got us off to a good start and we had passed 60 by the time a sharp caught and bowled chance was taken and Henry had to depart in the 20s.

Shrimpy joined Dom, keen to spend some time at the crease. Dom was ticking along nicely and began to find the boundaries with some regularity. Like Jez earlier in the season, Dom looked nailed on for ton, but couldn't quite make it, toe-ing a wide half volley to cover in the 90s.

A solid foundation had been set and we still had 40 odd minutes to bat. Fiddy is just the man for that situation, he joined James and they both set about smashing the ball to all parts. If anything they struck the ball TOO hard, prompting lengthy forest searches, and losing time. We finished on 230 odd and looked forward to bowling at significant total.

Unfortunately we didn't quite click in the field straight away. Catches were spilled early on by usually safe hands, ground fielding was sloppy, boundary chases unenthusiastic and wickets refused to come. Runs themselves never seemed a problem, thanks to good bowling by all and a flurry of wickets came mid innings to make the chase all but impossible. There followed a period in which we fielded in the pouring rain, where a draw seemed inevitable. BUT THEN...it did finish in a draw, Ley Hill ending 50 runs short, and we retired to the Plough to dry off.
August 14th - Warwick Gypsies CC - home
The Warwick Gypsies Cricket Club were our opposition today, a club formed of three years of Warwick University old boys who are celebrating their tenth year with a tour to Bucks and Warwickshire. We have played them once before, under the guise of 'Dom's wedding guests' the day after he and Robin got married in 2014. That afternoon the Gypsies batted first and scored over 250, we were keen not to repeat this, and knew we needed to be sharp in the field, and we sure were.

The Gypsies got off to a flying start, particularly given that the wicket was a bit of a horror to bat on, very unusually for HHCC. At nine overs the Gypsies were one wicket down but had 80 on the scoreboard and we thought it was going to be a long day. Then came a match changing catch. The opening bat struck the ball with all his considerable force towards mid off, and it went like a bullet to Stanley. Many might have allowed to fizz all the way to boundary, but Stan showed maturity, ability and bravery and took it smartly. From here, everything seemed to go our way, Adnan bowled with intelligent changes of pace and stuck to his guns each of the great number of times that batsmen came down the wicket to him, and took three wickets including two stumpings, Dom making sure to demolish all three stumps each time, to make up for leaving the bails in place last week!

Fiddy bowled a controlled ten over spell, taking up the Sonley mantle. But the pick of the bowlers was Nick, who bowled with aggression, and kept his arm high to extract some good bounce from a dead pitch. He took four wickets, the highlights being a straight yorker which bowled an unsuspecting chap first ball (it's a long drive from Sussex to get a first baller!) and the final wicket which was a full blooded snick, that would have gone to a vacant first slip's right hand, but a full stretched dive saw Dom, keeping wicket, cling on one handed. The surprise by all who saw the catch was a bit galling, but it meant we had bowled them out for 144, an amazing effort from 80-1 after nine overs.

Our reply got off to a decent start, Dom was joined at the top of the order by Jo Bond who stroked the first delivery through the covers.m for four. A mix up shortly after saw Dom run out and replaced by his younger brother, Ollie. Jo was bowled off his pads, and Matt Simms came in to offer excellent resistance to some good bowling and support for Ollie. Ollie looked in fine touch and was going along quickly but unfortunately miscued one to point in the 30s. Wickets started falling quickly at this stage, but given we were chasing a small total we needed just one more significant contribution. Nick was the man. In scenes reminiscent of Adris two weeks ago, Nick began launching huge sixes over the road. He was on 30 in no time and we were 20 runs from victory. With seven wickets down though he was our last hope. When he top edged one, he top edged it with such power that it skied into air, all the way to the square leg boundary, where a fielder took it on his chest, then grabbed on to it with his hands. That'll be bruised in the morning.

Unfortunately we couldn't edge ourselves much closer and we finished 15 runs short of victory. An excellent performance from HHCC though and against as good an opposition as we play, we very almost won it.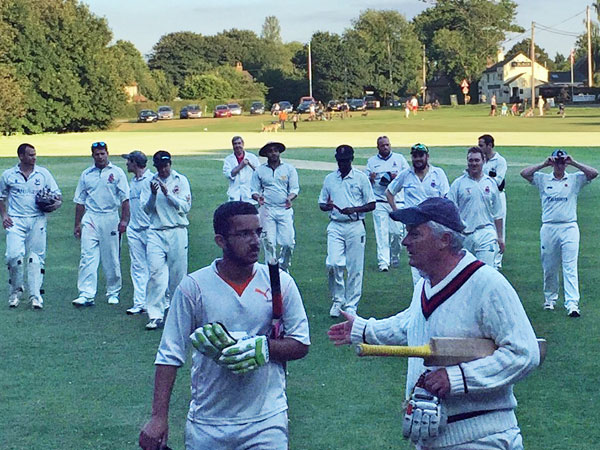 Dom Haddock
The less said about our batting display against Longwick, the better. We were dismissed for 83 well inside 20 overs. The pitch definitely misbehaved, some balls leaping, others shooting along the ground, but we made a significant contribution to our poor score too.

We took the field knowing that every run was precious and that we were going to have to take quick wickets if we stood a chance. Thanks to an excellent opening spell by Ben, ably supported by Fiddy who found some nice rhythm and genuinely steepling bounce (surprising HHCC more than the batsmen I think!), we were certainly in the match, reducing Longwick to 40 for 4.

Chasing 84, they only needed one significant partnership and the 30 they put on for the third wicket all but won it for them. We fought back though and an excellent catch diving forward by Shrimpy, turned the game again, beginning an excellent period in which we took three wickets at the cost of only one run.

We needed just one wicket for victory, and Longwick only eight runs. Unfortunately for us, their young number 9 kept a cool head and seized upon two loose deliveries in what became the final over, and took them to victory.

At 2.15pm, at 30 for 4, we didn't think that the afternoon was going to be much of a contest, but it turned out to be a wonderful game of cricket.
Dom Haddock
Bourne End were due to be this weekend's opposition, but they had to pull out because of cup commitments. Fortunately for us, old friends Missenden Pelicans had also been let down, so we hastily arranged a rematch, after an an excellent fixture in the early season which we lost by one wicket.

Having been inserted, our batting never really got going. Dom looked in good touch, and started brightly, racing into the 20s, when he got a good turning ball, which bowled him. Uzzi nicked off for ten, Jez got a good yorker early on, which did for him, Nick's luck was similar and quick as a flash we were 40 for four.

Adris decided the best form of defence was attack and began smashing fours and sixes at will. When one of their fielders complained of a small boundary, the square leg umpire pointed out that the sixes were landing well over the road. Unfortunately Adris played one big shot too many and was his innings was brought to a close thanks to a smart catch in the deep. Some late resistance by Stanley and Adnan got our score up to 135 all out. It gave us something to bowl at, but it felt well short.

As we'd been bowled out well before tea, we have a few overs to throw everything we had at their openers, before the break. Adris started well, and some nice shape back into the right hander brought him an lbw in his first over. Early success. Unfortunately though it didn't continue. We didn't take another wicket, the Pelicans weathered an excellent opening spell from Adris and Uzzi, then attacked when we brought our slow bowlers on. We put the odd catch down perhaps, but we were always 80 or so runs short.

The match will be remembered perhaps for Adris' huge hammer blows and a very amicable spirit between the sides. Any opposition who buy HHCC a jug to say thanks for the game can come back again!

Dom Haddock
Hyde Heath Devon tour 2016 The problem with England's rural idylls is that they can sometimes be bloody hard to get to. Unfortunately I only remembered that fact when, having cavalierly asserted I'd have no problem in making my own way to Hyde Heath's 2016 Devon tour, I found myself standing outside Whimple station – which consists of one solitary building (now a private house) and a board full of out-of-date notices. No less than fifteen local taxi companies either did not answer, claimed that no driver(s) was/were available (in the pub already?) or that Whimple was "out of our zone, mate". I was beginning to think I might have a long walk ahead…
Fortunately, as I set off from the station I found a pub to sit and drink in. Even more fortunately, Nick agreed to come and pick me up in the car. As if he didn't already have enough on his plate this year: for 2016, Nick did practically everything – welcoming host, generous chef, inspiring captain, hard-hitting batsman, excellent fielder (ahem, except off my bowling) and all-round good egg. Oh, and now taxi driver: what a hero. Cheers Nick!
After a preparatory pint in the upmarket Five Bells (my third of an increasingly enjoyable day) we pitched up at Clyst Hydon's lovely ground, won the toss, had another beer or two, and decided to field. On a grey and muggy day, Luke and Stan dovetailed beautifully as an opening attack. Indeed, the oppo umpire said it was the best pairing they'd faced all season. Coming off a shortened run, Luke bowled a smidge fuller than his usual 'league' length (which is always too good for village batsmen to even get out to). Both he and Stan found considerable swing to threaten both the stumps and the outside edge. Unfortunately, after both openers had been removed, it was the inside edge that went astray. Stan pitched one up to Clyst Hydon second team's small Sri Lankan overseas player. He drove, nicked through to Liam behind the stumps, but the catch went down. Keeping wicket for the first time in a decade, Liam actually did really well – especially when diving to his right. But he did miss a couple of chances, and this one was to prove crucial. At the other end, Clyst Hydon first team's (much taller) Sri Lankan overseas player signalled his class by clumping his very first ball back over Luke's head for 6.
At this point Hyde Heath needed something special to dismiss the oppo's two key batsmen. KD bowled with pace and hostility, but we were leaking boundaries at the other end and Clyst Hydon were able simply to see him off. Adnan's struggled a bit on a slow pitch, although Umar again bowled with excellent pace and control. At the half way stage they were 100 for 2. We'd kept a lid on the scoring but failed to break this partnership. Now Clyst Hydon had a platform from which to launch. This they duly did, and slowly – but unmistakably – the wheels fell off. By the end of the innings our catching had deserted us. In one over, I had a stumping missed by Liam and a catch dropped by Adnan on the long-on boundary. (At least he didn't fall over backwards on the boundary-side bank, like some idiot I could mention…). But the real surprise was the skipper himself dropping a gentle one at mid- off (again off me). Perhaps it was the pressure of captaincy: it was certainly a drop of which Charlie would have been proud. Anyway, Clyst Hydon closed on 280 from their 40 overs. With a flat pitch and some very short straight boundaries, it was probably only 30 above a gettable total – or maybe 50, or 100…
The more pressing task, however, was tea – as ever at Clyst Hydon a never-ending conveyor belt of ingenious deliciousness. Roast potatoes, chilli Yorkshires, stuffed croissants, pizza, scones, sausages… After greedily devouring as much as possible, it was time for Jez and I to open the batting. Not wishing to blow my own trumpet or anything but this was probably the worst I've ever batted. I must have played and missed at ten, nicked several others, mistimed a couple of drives, then finally – thankfully – edging to slip. Jez's dismissal then paved the way for a fantastic partnership between Luke and KD. KD was his usual inventive self, while Luke combined technically sound defence with some crisp blows. None was more dramatic than a massive slog-sweep that thudded into the pavilion roof, skipped over the top, into the carpark behind, and landed somewhere with the dread shattering of glass. Queue immediate panic from all quarters – none more so than the two batsmen who had arrived here in a hire car. Fortunately the victim was an old caravan that looked like it had been in situ for some years.
Luke and KD continued on their merry way. But after a rain break disrupted their rhythm, I gave Luke out LBW on the sweep (after feeling dreadfully guilty for turning down a similar appeal a few overs previously). After Luke's departure for 70 or so, KD kept going, but failed to find sufficient support. Wickets began to fall and the required rate climbed exponentially. There was some entertaining hitting from Adnan in the dying overs but by then it was too late and we eventually fell short by some 50 runs. From there it was back to the pavilion to make further inroads into Clyst Hydon's fantastic tea before heading back to chez Burgham for some concentrated boozing. With no Test match scheduled for the rest day (do the ECB no longer consult our fixtures committee?) and Thursday's game cancelled due to rain, the rest of tour was largely spent lounging around, boozing and playing garden cricket.
Bliss!
Tom Jeffreys
Well, what a thoroughly enjoyable game that was. Just as the ongoing series between England and Pakistan has so far been characterised by a genuine and infectious feeling of bonhomie between the two sides, so Hyde Heath's trip to Cublington was played out in a similar spirit of competition leavened by goodwill. And, as with England and Pakistan, the catching left a little to be desired.
I like to think I set the tone. After Ben's first two deliveries of the match had been dispatched to the boundary, he settled into a tidy spell of seam-up and cutters. After tying up one end, he lured one opener into an injudicious mow. The ball hit the top edge, and steepled up towards me at midwicket. I settled myself under it, called "Mine!" with what was intended to sound like confidence, and promptly missed it completely. Total silence. Not even derisive laughter – it was that bad.
Thereafter, for Hyde Heath at least, only Fiddy declined to follow my example – taking two catches – as Jez (much to my delight) and Adnan both shelled chances.
Admittedly, both were travelling significantly faster than my own. Underpinned by their aggressive Australian opener (not the one I dropped), Cublington sped along at the best part of a run a ball in racking up a 50-run stand for the first wicket. But our bowlers clawed things back through wickets for Ben, Fiddy, Adnan and yours truly. As the run rate slowed, Hyde Heath applied the squeeze and we were well marshalled by Nick, whose field placings and bowling changes frequently bore immediate fruit. Umar, for example, took the key wicket of the Australian opener with the first ball of a very impressive spell. As Cublington stuttered, he and Fiddy ran through the lower order. Umar finished with four wickets and Cublington with 191 – something of a triumph for us given that they were 150 off 30 and eyeing something considerably in excess of 200.
Credit should go to Walter, who bowled very tidily and was unlucky to go wicketless. Also apologies were due from me, when my one non-terrible piece of fielding – involving a surprisingly accurate shy at the stumps – resulted in the bail striking Walter square in the forehead. Sorry Walter! In an effort to redeem myself, I opened the batting alongside Dom and we did well to see off the pacey opening overs of their Australian opening bat. Apparently he's actually a 'keeper by trade – don't you just hate people with that much talent? Unfortunately, just as I felt settled against him, I fiddled at one better left alone and gloved low to the 'keeper. Jez, at three, similarly looked solid before edging the same bowler behind. Were Hyde Heath about to make a hash of this? With a batting line-up shorn of Henry and Shrimpie, it was always a possibility. But Dom held the top order together in a restrained innings of 35, while Spencer mixed stout defence with some lovely timing to notch up an increasingly impressive half-century. When both were out, Umar continued our rapid progress towards victory, and the stage seemed set for Nick to hit the winning runs in appropriately skipperly fashion.
But a fearsome cut shot was brilliantly caught by point, diving full stretch, low and left. Clearly, that fellow hadn't got the fielding memo. Fortunately, it was but a blip, and we still sailed to victory – chasing the target down for the loss of five (I think) wickets and with a whopping 13 overs to go. Not only a solid victory for the Heath but an entertaining win for cricket too. Next stop: tour.

Tom Jeffreys
After the shenigan's of the match against Full Tossers it was good to return to the values that we all hold when playing the game. This was a match featuring some excellent performances and an outstanding full debut by Walter Burgham, and whilst both sides wanted to win, there were plenty of opportunities to smile and laugh at cricketing incompetence.
The tourists came to the Heath having been soundly thrashed by Ley Hill, with their young opener scoring 175. However today they were skippered by the experienced (and shortly to be 50) Toby Sims. Consequently I was begging and promising wads of cash to anyone that would strengthen the mighty Heath. The consequences of defeat to my little (?) brother did not bear contemplation...As I had failed to read my e-mails I was blissfully unaware of some dropouts, but a last minute recruitment of Mike 'My Duck' proved invaluable, and with Nick to come and join us after work we had a blend of youth and experience.
Toby won the toss and inserted. Having started the season with a 0 I opened my account for the season with a typical glide to 3rd man before missing a straight one to the bowler with the nickname of 'Doom' due to his cheery disposition. However the young Max Free, one of Stanley's mates, continued to flourish. Umar joined him and played some meaty blows before being bowled by the canny Meaton. With youth being given a chance to flourish, Adnan and Stanley were promoted up the order, with no effect. It was left to Jez and Walter to repair the damage. Jeremy was a picture of restraint, playing the leg spinner Rutter with justifiable caution, whilst Walter defended sensibly but still unleashed a couple of powerful drives. He was warmly applauded from the field by both sides after he was eventually LBW to Rutter, and with Sonley departing for 1, with the score on 90, we were in bother. It was a surprise when Jeremy succumbed for a solid 18, which meant that by now we were down to our last stand, Nick having arrived from work and Mike having donned his pads for the first time for a while. His new dog looked on in admiration as Mikey was quickly off the mark but it was Nick that quickly got the scoreboard going. Toby thought briefly about catching one firmly struck 4, but wisely withdrew his hand at the last minute. He launched Buttery into the woods off successive balls and took 18 off one over, successfully marshalling the strike. Even so, Mike was left to survive an over from Meaton, and did so with style. Nick's 50 was one of the quickest in Hyde Heath history, (off 18 balls we think) and it was a surprise when he was caught on the boundary for 51. Still 147 was something to defend on a pitch of with some variable bounce and it was an excellent recovery. Throughout the afternoon Petts Wood were quick to applaud any good shots (not that there were that many) and never missed an opportunity to verbally abuse each other, the general slowness of their skipper being a particular target.
After Harriet had brilliantly marshalled the kitchen, Petts Wood set about their target with purpose. Their ringer (signed up from Ley Hill the previous day) was clearly in a hurry as he had to leave at 6.00 p.m. He struck the ball well before taking liberties with Stanley, pulling across the line to sky one towards Walter. To many of your Hyde Heath heroes this would have been a difficult, or perhaps impossible catch. (see Tom Jeffries at Cublington), but Walter got himself in the best position and caught it without any fuss. (a good way to keep on good terms with your elder bro'). However that proved to be Stanley's last contribution as cramp got the better of him. Adnan replaced him at the pavilion end but there was little bounce and turn for him. However Jez had been very keen to bowl and replaced Ben. He settled into a good line and length and extracted some turn, sufficient to lure opener Jack Russell from his crease where he was surprisingly stumped by Sims, who was keeping because we were desperate. Petts Wood were always up with the run rate and although they sportingly gave us a fielder to replace Mikey (who had to depart for the 6-a-sides) the singles and the odd four came too often. However The Heath fought really hard. Walter bowled the dangerous Buttery for an irritating 22, sparing Jeremy's blushes after a drop at mid –on, and then took another stunning catch at short third man off Adnan. The boy is a star!! His Dad bowled an excellent spell, clean bowling the no.3. and finished with 1-7 off 5 accurate overs. It was an excellent spell that put pressure on the batsmen and gave us hope that we could still nick a win. With Umar taking 2 wickets in a forceful spell Petts Wood needed 5 to win with 2 wickets left...Toby then came in at no. 10 and placed a forceful snick down to the third man boundary and the game was up.
I can't pretend that losing to your brother is recommended but at least this was a good game. There were some great performances from Nick, Jeremy, Mikey and Umar and Walter was a star!

Matt Sims
July 17th - Full Tossers - home
This year's fixture against touring team the Full Tossers had an unpleasant feel to it. The vast majority of the oppo were very decent chaps but two or three played the game in the wrong way. We bowled first and they got off to a flyer with some handsome blows into the trees. This brought a lot of complaining about balls being lost in the woods and time being lost, the suggestion presumably being to fell the woods(?!). Then came an incident in which a batsmen stuck the ball back to the bowler, Stanley, who took a smart return catch. The batsman decided instantly that it fact it hadn't been caught cleanly and instructed his umpire and team mate to give it 'not out'. It was clear to all the fielders around the bat that the catch had been taken cleanly and with that the batsman walked, only to be called back to the crease by the umpire, who hadn't seen it in the first place. Fortunately Chris Sargeant was on hand and had taken photographic evidence of the clean catch, so we claimed the moral (if not actual) victory. That Stanley took four wickets in the match made this lack of a fifth (and what would have been his first five wicket haul for the club) all the more hard to take.

The Tossers went onto make 200 by tea. However, having decided that too much time had been lost looking for the ball, they informed us that they would bat on for an extra 15 minutes. The rules were explained to them and HHCC left the field for tea. The Tossers decided that they would not declare at tea, but bat on. This is of course their right, but no one can recall this happening at HHCC in living memory. Eventually they were dissuaded from this foolery and our innings began after tea. Well, actually after a little a pause after tea as the Tosser captain refused to give HH an extra four minutes of batting time. Good grief.


Despite a steady 40 odd from Henry and a patient 30 from Fiddy (to go with his three wickets earlier), the Tossers bowled us out relatively cheaply and got their victory. Thank goodness, they really wanted it.
Dom Haddock
An enjoyable match, against a friendly opposition. Our batting was dominated by Jeremy, who hit hard, cleanly and often through the covers. He seems destined for a hundred, but unfortunately it wasn't to be and he fell for an excellent 79. Useful cameos by Henry (31), Umar (30) and Stanley (28) took us to 206.

We bowled well, and Red Square Lions never really got a start. Pleasingly they never considered a draw and went down fighting all the way to the end. We dismissed them for 100, wickets shared by Ben (1), Umar (3), Adnan (2) and Spencer (3). Jeremy took a well held slip catch to dismiss their last batsman and win the match, rounding off a successful day for him and the Heath.


Dom Haddock
July 3rd - Sandridge - away

A big thanks to Charlie to finding us an opposition this week, after Ballinger cancelled on Friday because they couldn't put out an 11.

Off we trotted to St Albans to play Sandrigde CC for the first time. Our batting rather let us down, bar two good knocks, the first by Uzzi early on who made 50 odd and the second by Spencer who intelligently took his time to get his eye in before unleashing some lusty blows, taking 12 off what was to be his final over. These, and a few starts by Umar, Will and Shrimpy got us to 160 all out and we took tea. My highlight of our innings was Will sneaking a single, Charlie umpiring, both ball watching and Will driving straight into Charlie sending them both flying. At the break, we thought that we were probably about 20 short, but the wicket was misbehaving and we had an excellent fielding outfit, so we had a chance.

Our effort in the field was excellent. Ben bowled maiden, after maiden, after maiden. Fiddy bowled as good a spell as I can remember him bowling, great control. Uzzi was quick and lively, and found some movement through the air. Jez turned the ball and bowled with temping flight, taking a couple of wickets and deserving more and Umar was nagging and consistent.

We took our ninth wicket with 40 still required, and only five overs to score them in. Surely victory was ours. No one had told Sandridge this though. Their last pair set about an infuriatingly successful game of tap-and-run, with a few hard hit boundaries thrown in to keep them in the game. It all came down to the final delivery, three needed to win for Samdridge, two to tie, and a wicket needed for a Heath victory. Even with their impressive running, we could limit them to a single couldn't we? They would have to go for the big shot to win it, wouldn't they? They did. A huge six sailed over the mid on boundary and victory was theirs.

What a stunning finish. The sort of game you desperately want to win, but don't really mind coming second in. A fixture to be repeated we hope.

Dom Haddock
June 25th - Presidents XI - home

Tradition dictates that it must rain on President's Day. Sure enough, every forecast going told us that we were due thunderstorms from 4 o'clock for the rest of the day. The decision was taken therefore to limit the match to a Twenty20 affair and of course it then turned out to be glorious all afternoon and evening, typical.

Before play got underway current club members, 'old boys', partners, children and locals were treated to an excellent lunch and what was left over behind the bar after the previous evening's beer festival. Pauline Richards officially opened the new scoreboard/pavilion extension (once the board's remote control had been found) and plaques were unveiled remembering our friends Caroline Cousins, Robin Richards and Richard Austin, in whose names the new pavilion is dedicated and who would have all loved Saturday's festivities.

To the cricket. The President's XI bat first as a rule, which the club were very happy for them to do on what looked a slow, wet wicket. Will Cousins opening the batting made light work of the first over, crashing some blows towards deep midwicket to take eight off it. These fireworks were quietened by Ali Richards the following over who returned in fine form and a quick, in swinging yorker was too good for the President's XI other opening bat and we were into them.

Much was made of the wicket's slow/wetness by each departing batsman for the next 15 or so overs that it took the club to bowl out the President's XI. Sure, they had a point. But their tactic to keep going hard at the ball, keep trying to reach the boundary, and attempting to set an IPL like total, was rather misjudged. This tactic coupled with a fine display in the field meant we bowled them out for 80 in the 15th over. All of our bowlers performed well. Ali, Ben, Stan and Luke make up as varied a right-arm over seam attack as you're likely to find, different paces, natural lines and lengths, and heights. Adnan was his usual flighty and guiley self and wickets were shared pretty evenly between the five of them. After last week's shoddy display, it seems a number of our side have been doing fielding drills in the garden during the week; our catching and ground fielding were excellent.

Our batting effort was less eventful, though no less effective. With the required run rate manageable, Henry and Dom chose not to be rushed and accumulated steadily, mindful of the sticky wicket. Henry was dismissed in the 20s thanks to a smart caught and bowled, to be replaced by Shrimpton who was less mindful and more immediately destructive. Dom followed suit with a clip off his toes which sailed into the road for six and it wasn't long before these two chased down the runs, with eight overs to spare.

Perhaps too comfortable a win for the Club, but it was a fun game, played in good spirits, in front of an enthusiastic crowd. A great big thanks to all of those who made this year's Big Weekend a huge success.

Dom Haddock
June 19th - Chiltern CC - home

A low scoring thriller on the Heath this week, one which we managed to lose

Things got off to a bad start when we lost the toss and were invited to bat on a wicket that was as green as the grass Tom Jones likes to bang on about and an outfield as slow as molasses in January. This is no criticism of our very fine groundsman, but a product of 'the wettest June since 1066'.


The (literally) sticky wicket and very decent opening new ball pair made scoring hard work for Dom and Uzzi, but they stuck at it and their gritty (read 'slow') opening stand of 50 was valuable. Fortunately once they'd departed Nick and Fiddy came to the crease and made scoring look easy as pie (it's national metaphor week reader). Both batsmen are naturally aggressive, and instructions to 'get their heads down' fell on deaf ears, with glorious results as they crashed the ball around at will. Nick top scored with a well struck and even better run 30 something which took us over the 100 mark. Our late middle order got us up to 117 but we were bowled out before tea, for the second time in consecutive matches.


Tea was its usual high standard, and Heath players and spectators got double portions thanks to Ramadan.


We restarted without a great deal of hope, but got off to a flyer, thanks to Stanley's hooping in-swing which saw off their first four batsman with only 30 on the board. We were in this! Unfortunately we let ourselves down badly in the field. The ball went to hand, and (mei culpa!) glove, enough times for us to have won it, but we didn't take our chances and one 50 odd partnership took the game away from us. The highlight of our fielding performance was perhaps a sharp stop, then a direct hit by Adnan, that let us back into the match. It was a nerve jangling finish for both sides, but eventually Chiltern knocked off the runs with two wickets in hand.


We could and should have scored 20 more runs, which would have won it. We could and should have taken a couple more catches, which would have won it. Instead we shook hands, retired to the Plough and drowned our sorrows.


It's the 'big weekend' next weekend, with beer festivals to be had, ribbons on new pavilions to be cut and prizes to be awarded for the 2015 season. See you there.
Dom Haddock

An emphatic victory this week, thanks to a clinical performance away from home. Little Missenden prepared a pitch so green, it was hard to distinguish it from the outfield, and graciously invited us to have a bat on it. A good number of us got starts, 20s & 30s for Dom, Henry, Shrimpy, Luke and Nick, but none of us quite felt 'in' on the wicket. Debutant and school mate of Luke's, Jay, was the pick of the batters, and scored 58 thanks to some hard striking.

Rather unusually, we were bowled out, and 20 minutes before tea was due. Not before we had nudged our way up to 180 thanks to some lower order accumulation from Liam and Ben, both of whom have showed real grit every time they've batted this season, which is extremely useful in circumstances like this. The batters all thought that 180 was competitive, the bowlers fancied a few more on the board, but we all enjoyed an excellent tea.

Over tea, all ten of us managed to tell Ben quite how perfect the conditions were for him and that he should take lots of wickets on it. There's nothing worse! Fortunately Ben was up to the challenge and bowled a perfect line and length on the wicket and took 4 wickets, including a very sharp caught and bowled. Luke also bowled well, off shortened run, which his old mate Jay reliably informed everyone in the field meant he was bowling much more slowly than he used to, lol*.

What was most impressive about about our fielding performance was the catches. Ben's great reaction return catch, another really excellent grab by Adnan to dismiss Little Missenden's best batsman, and a total screamer by James 'two weddings' Shrimpton. All of which meant that just after the 20 over mark, we bowled Little Missenden out to win by well over 100 runs, and we retired to the Red Lion to bask in sunshine and victory.

*is that the first use of 'lol' on the Hyde Heath website? I hope so.
Dom Haddock
May 29th - Gt Gaddesdon - home

New scoreboard dedicated to Robin Richards unveiled for the first time by Pauline Richards May 29th 2016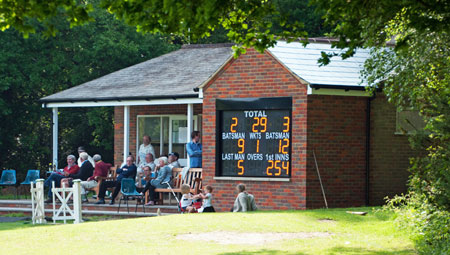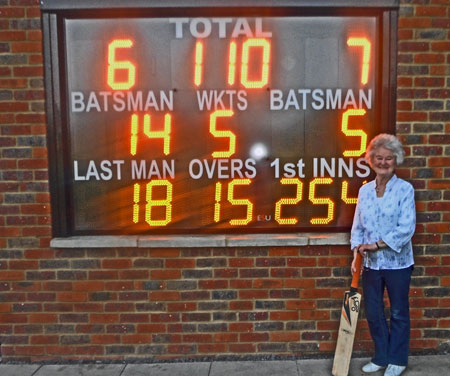 "There shouldn't be any politics in sport," said Mike Gatting once upon a time with the characteristically self-serving naivety of a man who dedicated more hours to eating than to thinking. 27 years later, on a sunny Sunday at Hyde Heath, with a double-sided EU referendum chalkboard outside The Plough, and the Remain camp's chief campaign strategist Tim Barnsley holding forth at any opportunity, the subject of politics was never too far away. It was even said that the arrival of Andrew Strauss mid-way through our stint in the field had less to do with scouting out a pair of leg-spinners ahead of England's winter tour to India than his desire to quiz Barnsley on the rumours that the EU is interfering in ECB deliberations over the legality of the switch-hit. Or was that the MCC? Or the ICC? Who knows…

Anyway, all of that is by the by. On a beautiful May bank holiday weekend, Charlie won the toss and chose to bat – no doubt buoyed by what looked like a formidable Hyde Heath batting line-up. The ground was looking a picture – even more so with the completion of our smart new pavilion extension.

The new electric scoreboard (and the scorers operating it) were thoroughly put through their paces over the course of the afternoon. Against a weak Great Gaddeson bowling attack, Hyde Heath made hay. Not literally, obviously. That would just be bizarre. First Dom, then Shrimpy cashed in on an easy-paced pitch (great job Mikey!) and a lightning fast outfield, especially downhill towards the woods. Having reworked his technique a couple of years ago, Dom looked supremely in control, while Shrimpy's lofted straight driving was a class above everything else in the match. At one point he hit five consecutive boundaries and was beginning to look unstoppable. Both batsmen compiled aggressive fifties before being dismissed – Dom bowled on the pull and Shrimpy brilliantly caught on the long-on boundary by Great Gaddeson's 15 year-old prodigy who also opened the bowling and batted with stubborn determination (about which more later).

All the while, Henry batted his way to a fine hundred, largely content to provide the foil to the aggressive batting around him (which also included James Mason hitting 20-odd off less than ten balls). It was an excellent, chanceless innings. As soon as three figures were raised on the scoreboard, and with the team total a whopping 254 for three, Charlie declared and we adjourned for a delicious tea. Smoked salmon sandwich spirals were a noteworthy addition.

| | |
| --- | --- |
| | |
| | |
Great Gaddeson were never likely to score the mountain of runs we'd raised, especially after Adnan, opening the bowling, struck in his first over. At least they continued to bat positively throughout the innings, which made for more entertaining cricket and also created opportunities for wickets. Luke bowled aggressively without much luck; Henry pulled off a sharp stumping; Fiddy took two in two, both bowled – one a bit of a beauty that pitched middle and hit the top of off; and Simon Chase pulled off an absolutely sublime one-handed return catch that was probably the highlight of the day.

Unfortunately a significant partnership developed between a cross-batted middle-order biffer and the young opening bowler. This threatened to frustrate our quest for victory and even led to the rare sight of the captain himself sending down two overs of tactical dross (fortunately Strauss had left by this stage). But Adnan returned to snaffle a couple more wickets (including the biffer for 70-odd, chatted out by Capper's chat about hundreds) and, all of a sudden, victory seemed nigh. Irritatingly, but impressively, the young fellow blocked out the closing deliveries and secured the draw with Great Gaddeson eight down – the second such result for the Heath in successive weeks. Then, despite the odd bit of needly chit chat between the two teams, we all shook hands as friends and retired to The Plough. If only politics were as civilised as cricket.
Tom Jeffreys

May 22nd - Little Marlow - away
Our second away fixture of the season took us to the pretty ground in Little Marlow. Little Marlow are usually a strong opposition, but the Heath XI looked good on paper too. We were missing lots of regulars in Capper, Shrimpton, Cousins, Sonley, Fiddy, Liam, Luke and others, but had called up the very useful Uzzi and Adris, and had a Burgham based youth policy in both Stanley and Walter.

We chose to bat first and Dom and Uzzi set off against Little Marlow's new ball pair. The bowlers pitched the ball up, and got it swinging at good pace. Runs were hard to come by, but our openers stuck at it and saw off the new ball, accumulating where there could. When Dom was the first to perish the score was 60 odd from 15 of our allotted 42. With two slow bowlers now on, the big hitting middle order really got going. Nick (21), Adris (68) and Umar (30 odd) all played bombastic innings, smiting the ball many a mile. One delivery was smote right back at the bowler and hit him in his midriff, which cause much hilarity for 21 cricketers, and every spectator, but not for the poor bowler who took a few minutes to pick himself up from the deck.

Throughout this carnage, Uzzi had quietly been collecting runs with good cover drives and hitting through the 'V'. He fell on 83 and we declared soon afterwards, on 237.
Wickets would be key for us now, had we given ourselves enough overs? Stanley and Adnan opened the bowling. Stan has undoubtedly put on a few yards of pace over the winter and kept things really tight. Adnan caused all sorts of trouble for all the batsmen that faced him; three consecutive balls brought a stumping (not given), catch at slip (good effort, but put down) and lbw (stone dead, not given). The lbw was so plumb the umpire apologised between overs and assured us the next time Adnan struck a pad, the batsman was a goner, a threat the umpire duly made good on just a few balls later. Adnan was also the sharpest I've seen him in the field; a veritable wall in the covers, and two excellent catches, one a running skier and the second coming hard and flat, like an absolute rocket, the sort of catch some finger preserving fielders wave to the boundary, but Adnan took it sharply and cleanly.

When Adris came on to bowl everyone was slightly disappointed that a back pain meant he bowled slow left arm, rather than his usual 80 odd mph. Actually not quite everyone, the keeper/slip cordon were pretty relieved. Adris bowled well but with little success in the wicket column. Then there was young Walter's bowling debut for the club, which although it too yielded no wickets was very impressive, for its full length (particularly impressive given he normally bowls on 18 yard wickets) and residency in the corridor of uncertainty, one to watch in years to come. Umar also impressed with the ball, showing his value as a real all rounder these days, and Jeremy continued his good form from last week, picking up three wickets, thanks to some nice flight. Charlie managed to wind Uzzi up, shattered and stiff after a long weekend of batting, who got real zip and bounce, sconning the lid of the opposition skipper at one point, and swung the ball in and out at will.
It was an impressive team performance against a good batting line up. Little Marlow were never close to getting the runs and shut up shop in the last dozen overs or so and though we got mighty close, we couldn't quite prize them all out and they hung on for a draw, nine wickets down.

Back to fortress Heath next weekend, for a bank holiday Sunday match, everyone's favourite. Your reporter understands that there are a couple of old faces coming back to the common on Sunday, and a couple of brand new ones too. See you there.
An emphatic victory this week, thanks to a clinical performance away from home. Little Missenden prepared a pitch so green, it was hard to distinguish it from the outfield, and graciously invited us to have a bat on it. A good number of us got starts, 20s & 30s for Dom, Henry, Shrimpy, Luke and Nick, but none of us quite felt 'in' on the wicket. Debutant and school mate of Luke's, Jay, was the pick of the batters, and scored 58 thanks to some hard striking.

A full team on Wednesday, became 8 on Thursday as injury, surfing trips and football spectating did for various members of HHCC. However, even from China, Charlie managed to pull three rabbits out of three baggy blue hats and by Saturday we had 11. That was until 1.50pm on Sunday, when we were back to 10. A quick phone call to Will KD and he was jumping into his car in Cambridge to be with us by tea, so 11! Then poor old Liam pulled a hammie a couple of overs after tea and we were back to 10.

Back to the start of play and Captain Haddock had lost the toss and we had been asked to bat, something of an early set back as our strength this week was in the bowling department. Dom and Jez opened the batting and started well until Jeremy managed to inside edge into his stumps for a second week in a row.

Will Cousins was very effective at three, ably blocking the good and demolishing the bad, to get to a good score in the teens and form a 50 odd run partnership with Dom. Dom was seeing the ball well, punishing anything short and running hard (was lapping poor old Umar) to move into the 60s.

Then came a forgettable passage of play, during which we lost wickets at regular intervals, with only Liam showing some resistance. This was until Ben and Stanley came together, both showing fine defense and good cricket nous to bat the overs, find gaps, run singles and edge us up over 140. It was an innings saving partnership and also meant that when Will KD arrived, we were still batting. Stanley claims his wicket him falling 'on his sword' to leave Will a couple of overs. The jury's out there Stan, but sure enough, Will clean hit his way to 20 odd, leaving us with a competitive 172.


Mrs Haddock and Mrs Barnsley produced a spectacular tea, chicken tikka wraps, smoked salmon and cream cheese sarnis, still warm sausages, the lot. Thank you ladies.


To our bowling. Ben Sonley and Will KD are a hugely contrasting new ball pair, testing a batsman's technique and mental ability in all sorts of different ways. Ben was metronomic and miserly, KD was bloody quick and nipped it around. Whilst Ben tied them down at one end, KD cleaned up the Pelicans' opening pair at the other, but their middle order was not for cracking. The experienced bunch knew that a slow but steady rate would set up a good finish.


Adnan bowled a long and effective spell, employing at tactic that reminded one of vintage Stevens; five good balls and then a wicket taking knee high full toss. Stevens even bowled a vintage Stevens spell, bowling off spin with a similar action and result to his days as a seam bowler. Jeremy's spell included the most hilarious moment of the day, a ball pitching on middle stump, just back of a length which rolled along the deck, under their skipper's bat and gently dislodged his bails. Though a generally very nice chap, this made their skipper's blood boil and he stormed off in a manner reminiscent of Wahid after a Barnsley LBW decision. He even picked up an errant ball on the outfield and whacked it into the trees. Goodness.


Stanley had picked up where Ben's metronome had left off and was also bowling very well, though for no reward. With only 172 to defend, overs didn't look like being much of a problem, could we keep picking up the wickets we needed? No. Our lines and lengths varied for just a few overs, perhaps thanks to the heat, perhaps one too many of Mrs H's excellent salmon sarnis, and the Pelican's capitalised, whacking a few fearful blows that all but took the game away from us. A smart run out from a KD/Umar combo and late off-stump clipping yorker from Will gave us a knife edge finish, nine down, nine runs needed. The experience of the batsman told again and they edged (ie used the edge of their bats) their way to victory.


It was a fantastic finish in glorious late evening sunshine against a good spirited bunch of oppo, and a real team performance, every member of the 11 can be pleased with one or more aspects of their performance. It was also, we think, our last match in the current 'home' dressing room.

By the next home game, the work on the pavilion extension will be complete and we'll all hot foot it into what will be the bigger room. How long have HHCC players been changing in that room, one wonders? Answers on a postcard please local historians.
May 8th - The Lee - home

While Charlie was away in China on his latest business venture, it fell to me to lead the troops on this gorgeous May afternoon. Our opposition were the Lee who have stuffed us pretty convincingly over the past few years


I wasn't filled with confidence when on enquiring on the strength of our team Charlie responded simply that we had "an awful side." When the team sheet was sent across we certainly had a range of bowling and although plagued by a number of batsmen more suited to blocking out for a draw then chasing 250 in early May….. I was quietly confident that we could give them a game.


All this confidence fell apart once I realised quite how hard it is to get 11 guys to actually turn up.


6.30am - Liam text me complaining of a sickness bug that needed an urgent doctors appointment. Urgent emails and text to the team and beyond to find an 11th with no avail. So we had 10.


1pm - a text from Adnan that if I didn't pick him up he couldn't play and we'd have 9…. I belted off in the car to fetch him, thank god Charlie and Mike set up…. at least we still had 10


1.10 - Text from Umar- what time do we start? Herding fecking cats!


1.30 - Liam, due some modern medical miracle had recovered from his near death experience and was ok to play again (that and Spencer pointed out he was with him all night and Liam was fine when he had left the club with the blonde at 3am). Mrs C dispatched to pick him up


1.50- We had 11, Liam would be late but not by much… great news. We tossed up, I won and with the bowling unit we had I put them in.


1.55 - A call from the vice captain Jez, he had got my text message from 7am this morning shame we only had 10….! he was just reconfirming that he was still at work and would be leaving in about 15 minutes so would be 40 mins late……!


How Charlie does this every week I will never know.


Anyway we started with 9 men and did a bloody great job. Stan & Ben opened the bowling (a partnership I would like to see every week) and kept it really tight , Stan bowled with good pace and movement and Ben bowled very nicely dropping it on a spot and just doing enough off the seam to beat the bat. Stan knocked over one of the openers and then there was a period of good, tight cricket (except we only had 10 at this point). We bowled tightly and fielded well (except Stanley) to their best two batsman and kept the scoring down.


After a period of stale mate, we changed it up at both ends, Spencer came into the attack and removed their opener and Adnam had their best player caught brilliantly by Stanley, who had clearly been lulling the opposition into a false sense of security with his fielding for the first hour of the game! From there on it we took regular wickets Adman bowled with real control (14-3), Spencer erratically but with wicket taking balls (55-3) and our new recruit Harry came on at the end and bowed full and with some nip to take 15-2. The Lee were out half an hour before tea with 157 on the board, game on!


Tea was a banger put on by Mrs C and ably assisted by Emma B, the home made Swiss roll was the highlight for me.


Chasing down this total wasn't going to be easy.. but after 4.3 overs we were 14-3 and Umar was striding out to join me things didn't look great. But, Umar simply went ballistic…. cowing the hell out of anything approaching middle stump…. and it got us going. At the other end I went along at a rate that Tj would have thought as a tad slow, Umar continued to score freely. Just as the oppo seemed to wise up to Umar's leg side approach I got going and we put on a very decent if mainly boundary based 110 together. We promptly both committed suicide within 6 runs of each other leaving 35 needed (Umar 40 Capper 51).


Were we nervous…. never, Liam came in and played beautifully (including a cover drive Gower would have been proud of) until he tried to replicate an Umar smear and got bowled. After Harry came and went quickly Adman & Stan saw us home through solid defence and about 9 byes… Victory was ours and we won by 3 wickets.


I have to say I absolutely loved the game, the company and the result; the Lee were lovely as always and I can't wait to get back out there in a few weeks time


There may be some rumblings about the omission of a very easy run out chance by the keeper in this report…. but I don't recall the details. !
Henry Capper