September 13th - Ivinghoe & Pitstone - Home

And so another season comes to an end. We closed with a penultimate over thriller, but unfortunately came second.


Keen readers will remember that we won this fixture against Ivinghoe & Pitstone last year, but in a rather unfriendly atmosphere. This year's match was played in much better spirits and was a suitable end to summer.



We took the field with bowling options coming out of our ears. However a few of our most reliable bowlers didn't quite find their rhythm early on. Ben took the new ball and whilst he's usually nagging and economical, he never found his length and had to be given a blow after just a couple of overs. Adnan took over and also struggled to find a good length. The man who may have taken more wickets for the Heath this year than anyone else (stats not to be released until the annual dinner) had been chopping bushes down in his garden all morning and it seems his young shoulder didn't have the strength for gardening and a long spell of leg spin in the same day.



However, whilst runs might have been flowing from the pavillion end, Luke was bowling brilliantly from the Plough end. He bowled full, with pace and got his line spot on to the awkward left/right hand combination. He needed a partner to bowl with control at the other end and finally Uzzi provided just that. It's a wonder what tight lines and good length can do. When Uzzi tired, Fiddy was brought into the attack, with unfortunate consequences (nineteen off his first and last over).



When Luke finally had the ball wrestled from his hands, Shaz took over with his off spin. He got some turn and varied his pace nicely. He didn't take as many wickets as he deserved, did take a crucial one in a dangerous strokemaker on 60 odd thank to a neat stumping by Dom.



With 15 minutes or so until tea, Ivinghoe had got to 202 and had three wickets in hand. Surely they'd throw the bat at it and get up to an above par 230/240. But Luke though different. Returning to bowl at the death he flatenned the stumps of a guy on 70, then took two more wickets with his final two balls of the over, leaving him on a hatrick in May, figures of 5 wickets from 11 overs, conceding just 19 runs (!) and Ivinghoe 202 all out.



I've missed some fielding highlights so will crowbar them in here. Two good catches, one from Fiddy, the other Capper a one handed screamer, above his head whilst pedaling backwards at extra cover. Dom made a fine catch look quite good by initially going the wrong way, having to change direction and then dive back one handed. And Umar, bowling well, was served up with a caught and bowled chance that he manage to dive out of the way of to avoid, perhaps TJ gave him some coaching when he nipped over in July.



Tea was a good as ever, the highlights were Umar's samosas and Ben's ham, mozzarella and 'pepper salad' (?) sarnies.

To the chase. We got off to a good start, Henry and Dom nailing some early boundaries and running singles hard. But when they were both bowled for 19 and 26 respectively, in quick succession, 202 was still a way away. Enter the five wicket haul man Luke Brennan. Luke looked classy throughout his innings, he got his head down, blocked the good, caressed the bad straight and through the covers, a delight to watch. He was ably assisted by Uzzi (who was involved in a run out for which both batsmen claim the blame), Nick, who nailed some big boundaries and various others, but no one really stuck with Luke for very long.

With 13 runs needed, six overs to be bowled and Luke still at the crease, we were all but home and dry. Then disaster stuck. On 80 odd Luke was caught attempting to go over the top of cover. So it was left to Ben and Charlie. They were so close to getting us home, but our last wicket fell in the penultimate over, with five needed for a famous victory. Still, a great finish and with a huge HHCC following at both ends of the ground.

So that's all folks. What will you miss most? Scoring runs? Taking wickets? Stunning catches? Or laughing at a terrible misfield, cheering your team mate's knock, sharing his well earned jug, a huddle after a wicket with some of your best mates? All of the above? What do people do on Sundays when there's no cricket? I guess count the weekends until we do it all again at the end of April. It's 31 I reckon, start scratching them off.



Dom Haddock





August 30th - Bank of England - Home



What a great game of cricket. It was cold, it was wet, it was really dark, we bloody lost, but THIS is why we roll out of bed on Sunday

So, HHCC lose the toss and are put in (PUT IN!, batting first, how the hell do we do this??). The opening pair Cousins (W) and Haddock are reunited, Dom promising not to run Will out again. The first hurdle was that their opening bowler was wearing a red pepper outfit. Now, we bloody love playing Bank, for the Brian Hartley cup, they're a top bunch of lads and their fancy dress is excellent. However, Dom 'party pooper' Haddock, wasn't sure he was going to see a red ball out of a red pepper outfit, and so it was duly removed (boooo Dom!).



The Heath got off to a decent start on a wet wicket. Dom pulled well and Will chipped over the bowlers' heads nicely. Then disaster struck when Will managed to under edge a full toss on to his own stumps. In strode Matt 'Mr Chair' Simms, who got a goodun early on and was replaced by Shrimpy. Dom continued his recent good run of form, until he gave deep square leg catching practice that deep square leg was up to, in the forties. Umar came in and with the subtly of a particularly unsubtle blacksmith, smashed the ball to all parts for a very useful and quickfire 20.His mistake was to try and block one. Umar is not known for his blocks and somehow this block managed to hit the deck, spin back, and nudge middle stump. Bails off. Umar dazed and confused. This brought Tim 'Frank Sinatra' Barnsley to the crease, the man who has hung up his boots two or three times a year since the mid nineties, but at 60-something and with a new hip, he turns up when the Heath needs him. Watch a learn youngsters.



Well out he came, and boy, has he still got an eye for the ball. Proper shots and lovely timing. He looks great, until Shrimpy, worried about a late entry into this year's batting cup perhaps, hit it straight to mid off and called him through. Usain wouldn't have made it. Barnsley sprinted and dived, but a direct he sent him on his way.



Meanwhile, Shrimpy was taking Bank's bowling apart. When they put seven men on the boundary, he just went over their heads and with some style. We were all ready to cheer his fifty, when he was inexplicably bowled on 46 (hates buying jugs does Shrimpy).


Then it happened. Nine down. 160 on board. Not enough to make it a contest. Angus and Charlie came together for the last wicket and batted properly. Good balls were blocked, bad balls were hit, singles were run hard and pressure put right back on the fielding side. They put on 37 for the last wicket, were undefeated and showed our top order how it ought to be done. Charlie batted with his head, nudging, bumping and scampering like an old pro for 15. And Angus, played some cavalier pulls and cover drives that screamed 'skip, I fancy the middle order' on his way to 24, our third top score. We set them 198 and from 80 for 4, we'd done well.



Tea began with a minute silence, in memory of Caroline Cousins, who very sadly passed away this week. Caroline was a much loved and important member of our club. She was a wonderful woman, great company, a committed HHCC supporter, served an excellent tea, was wife to once upon-a-time opening batsman Richard, mother to today's opening batsman Will and his brother Edward. She will be greatly missed by every member of the playing side, supporters and our families and our thoughts are with her three boys.



To our fielding. We started well, Fiddy and Adnan took the new (well, old) ball and bowled with excellent control, but Bank's opening pair stood firm and played patiently. Then came a breakthrough, and it was worth waiting for. Adnan over the wicket got the ball drifting down the leg side, pitched very full, turned viciously and bowled the batsman round his legs. An excellent dismissal and a great one to see from behind the stumps.



After that, wickets came in steady intervals. We were probably a bowler light, Umar was the only other bowler used, he too bowled well and created two smart catches (a reaction catch behind by Dom, standing up and a great effort from Fiddy diving forward at extra cover). Another smart piece of work in the field came when one batsman tapped it into the covers and called his partner through for a quick single. It would have been tight whoever the fielder, but we've seen many a run out chance squandered. Unfortunately for his partner, he'd taken on Shrimpy, who released a trademark bullet arm, which was well gathered by Dom and left the non-striker three yards short.

We look on course for a win, but their tall opening bowler, batting at six had a good eye and a powerful, let's say, pull shot (over cow) that was proving effective. Adnan, excellent all day so far and with four wickets under his belt, all bowled if memory serves, was beginning to grow tired. Perhaps it was the 14 overs unchanged, perhaps it was the week he'd just spent on Hamburg's Reeperbahn, but he dragged his length down a bit and their number six was capitalising, cruising to 80.


With a couple of overs to go, all three results were still on. We needed a couple of wickets, they need 15 or so runs. It was a tense finish, but in the end Bank got the runs in the final over. All that was left was for the tourists to don their traditional fancy dress, for all us to retire to the Plough and drink a toast to Caroline.


Dom Haddock





August 16th - Gamecox - Home



With the pitch under water on Saturday night, we were lucky to have something to play on this Sunday, but Mikey did a fine job and we were able to host old friends, Gamecox.



We lost the toss and were asked to field. Ben and Fiddy picked up where they left off last week and hit their stride immediately. Indeed it was the end of the third over before a run was scored. The bowlers maintained their control, assisted by good ground fielding, runs were hard going, but the opening batsmen were patient and wickets weren't coming.



A bowling change brought an immediate breakthrough, Shaz ripping one of his offies and bowled their number two. Their number three was dangerous, a strong puller and quick to punish anything short. Having taken his time to get to fifty, Gamecox's surviving opener was now seeing it rather well and scoring freely, eventually falling for a little over a hundred. As we tired our fielding started to fall away and Gamecox began to rack up a decent score, a shame given how tight we had kept things in the first half of their innings. Fiddy returned at the end to pick up a couple of wickets, and Shrimpy took a very smart one handed catch, above his head, at short extra cover off a full blooded drive, but Gamecox managed a very competitive 234.



Tea was excellent this week, plenty of chicken tikka wraps, everyone's favourite!



Dom and Will got our reply going, but the partnership was short lived as Dom called though a single that was never really on and Will was sent on his way. Dom looked in good touch, a one bounce four over cover and a slog sweep for six the highlights of quickfire 35, before he played one big shot too many and offered a high catch. Ajmal picked up where Dom left off and hit the ball hard and cleanly. At 6pm, Gamecox had inexplicably only bowled 15 overs, so we were to receive nine fewer than we had bowled and needed 150 from the last 20.



A big ask. But it was made to look relatively simple, thanks to a destructive cameo from Umar, a big knock from Ajmal and a cool finish from Shaz.



If Umar spends any length of time at the crease, runs are going to flow. Today he did, only perhaps half a dozen overs but his 42 was brutal, sixes over long on and and midwicket particular highlights. Ajmal was well set by now, blocking the gooduns and sending the baduns to the ropes (well the road and the woods, but you know what I mean). When Shaz made his way to the crease there was still some work to do. With three overs remaining, we needed 12 to win. We looked favourites, but the opening bowlers were back on and we've all seen collapses from here. Not for Shaz though. Two fours and six from the first three balls of that over saw us home with 15 balls to spare. Ajmal was left in the 80s, a very important knock, the backbone of our innings. You'll have to bring more 'game' next year, Mr Cox.




Dom Haddock



August 9th - Longwick - a great century for Dom - but we lost



Longwick - 210

HHCC - 160 ao (Dom Haddock 109*)




A special day for the Burgham family this Sunday at the Heath, and particularly for their youngest, Walter, who made his debut and may well be the youngest debutant for the club in history? So it was three Burghams that took to the field (we look forward to Alice joining them one day to make up a quartet, her hours of bowling in the nets on Sunday, surely meant for the skipper's eye?).




Ben and Fiddy shared the new ball. Fiddy, he won't mind me saying, could find no rhythm in his first over from the Plough end, so captain Charlie made the quick and excellent decision to stick in a over from Stanley and switch the openers' ends. It paid off, Fiddy bowled an excellent burst which included a feather through to Dom with the gloves. Ben bowled seemingly forever, in a long and accurate spell. Some lovely shape and a couple of nippers-off-the-seam made him difficult to score off and took him some wickets (stats currently unavailable).




Spencer was replaced by Stanley 'the knife' Burgham, who also bowled very tidily and his variation in pace meant batsmen could never quite settle. Old man Burgham came on to smartly clean up their most dangerous batsman with the old ''straight, quicker, keeping low'' one, boys watch your Dad, he's got all the tricks in the book. Adnan bowled with his usual fearless flight that belies his age and was unfortunate not to take more wickets, particularly with a stone dead stumping that wasn't given, which Dom accepted with good grace and without complaint, as you can imagine (ha!). It was a solid fielding effort, special mention must go to Liam, who was peppered in the covers, and quick over the turf sweeping the boundary. Also to Mikey, who gathered everything that came his way cleanly and Walter who got everything behind the ball.




Longwick managed to get up to 210 by tea. More than 200 is usually a tough chase, but the wicket was good and it felt no more than par.




After an excellent tea, Dom and Nick got our reply under way in some style. Both of them are stroke-makers and with both seemingly in some form, they cruised to 48 in just a few overs. Nick was done by a ball that might have just left him, or might have been a straight one, reports vary. Jez took over with similar effect, crashing a number of cover drives to the boundary in a stylish 30 odd. He too fell, and all of a sudden our middle order was left exposed. Dom was going about his business nicely, following up his hundred last week with some good shots and quick running. Slowly he began to run of out partners (in some cases because he was running out his partners, sorry chaps!). It was left to Charlie to see us home, one way or another. With nine boundary riders (!), Dom was being dried up. A heave over deep square leg's head and tickle round the corner brought him a second hundred in as many weeks, but we still needed 50 odd from 4 overs. Unusually for the Heath, it was decided that caution would be thrown to the wind (the same wind that had blown a cloud of smoke over the ground all afternoon, from an ill thought through bonfire) and that we would keep going for it. Would Charlie pull off a famous victory?




No. In a word. Unfortunately we lost our final wicket with a lot of work still to do. Ah well, live by the sword, die by sword.




Dom's Century in the making ...
Dom Haddock

August 7th - Hyde Heath win Amersham 6 a sides for second year !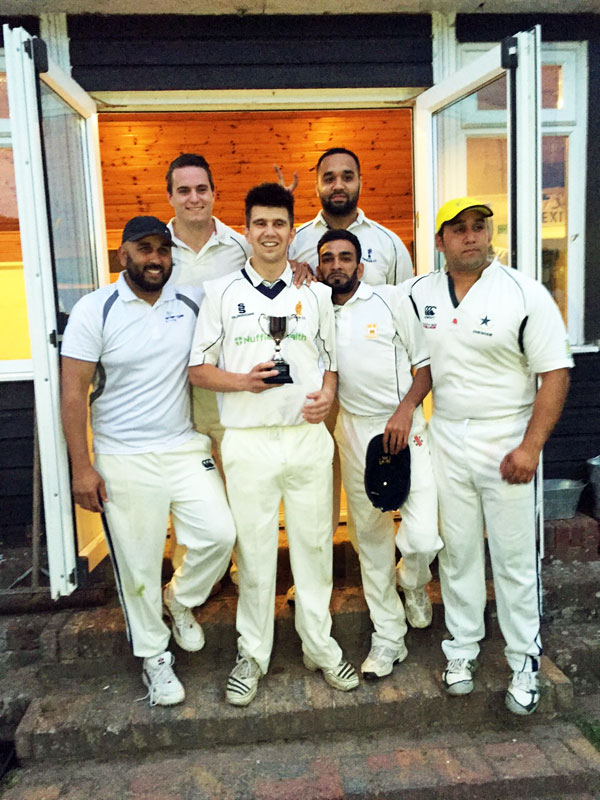 Picture courtesy of Charlie Samuels
August 2nd - Bourne End - Away - a Win !


Bourne End (away). Win for HHCC

Bourne End 268 (40 overs)

HHCC 269/6 (35 overs)

Dom Haddock 101

Luke Brennan 50-something (Tom might have exact score)


Another match, another sublime hundred. Where Capper's home ton was a masterpiece of calm and control, this performance from fellow opener Dom Haddock was one of sustained power, intensity, and inventiveness. It had to be: never can I remember Hyde Heath chasing anything like the total we were set by Bourne End – a whopping 269 to win from 40 overs. That in the end we cruised home by five wickets with more than five overs to spare was testament to Dom's brilliance, ably supported by Luke Brennan's crisp half century. Earlier, we had gone out of our way to make life difficult for ourselves.
Our opening bowlers – Luke and Will K-D – were stuck in traffic driving out from London and missed not only the opening overs but the entirety of the first innings. Bourne End declined to take pity and, on winning the toss, invited us to field first with just nine men and no loans from the oppo. Poor show! I opened the bowling – never a good sign – and mixed a tidy line with some proper dross on a pitch offering appreciable turn. At the other end, Spencer continued his good rhythm from tour, (full report coming soon!) hitting a good line and length at a decent lick. Ben Sonley too bowled a very tidy, probing spell, although being asked to change ends later seemed to disrupt his rhythm somewhat. At his best, there was something of the Golden Age of Stevens about his bowling: steady, relentlessly nagging for two, three, four overs – then the long hop, which scuttles along the ground to strike the base of the stumps. Village cricket at its finest. Adnan too bowled with guile and control to pick up two wickets, and at about 180 odd with 7 overs to go there was a chance we could limit Nourne End to something manageable.
Unfortunately, returning for my final over, I dropped a dolly of a return catch of skipper Azhar, who went on to murder our death bowling for an unbeaten 91. Meanwhile, Charlie found he had already used up all his frontline bowling, meaning that Capper was required to bowl two overs of off-spin in the closing overs. He actually bowled tidily – and showed me how return catches are supposed to be taken – but against the slope and with a tiny leg-side boundary, was always likely to be expensive. Our last few overs went round the park, and 268 looked well out of reach. Much to my chagrin, tea failed to materialise at the appropriate juncture, so Dom and Henry went straight out to bat. By this stage Luke and Will had arrived and it was now Bourne End's turn to lose a fielder as their hulking opener – a cage fighter, it transpires – had a row with a team mate and refused to take further part in proceedings. Bourne End's opening bowlers were tidy enough, but our openers began with positive intent and were son trundling along at seven an over. Henry then chipped one in the air for 27, I made 30, and still the run rate was maintained. All credit must go to Dom, not only for his clean hitting (some of his lofted straight driving was as good as I've seen) but for his clever placement and aggressive running between the wickets, which rapidly opened the cracks in the morale of the opposition.
My departure opened the door for Luke, whose fifty displayed some impeccable timing and power (one swept six over the pavilion was colossal). Although both Dom and Luke departed soon after reaching their respective landmarks,our run rate was such that the middle order wereable to see us home with ease. A lovely, sunny day, Dom's first ton for the Heath, and a memorable victory. Perfect!
Tom Jeffreys


July 28th - 30th - Devon Tour - Clyst Hydon & Whimple
HHCC Devon Tour 2015 An idyllic few days in the West Country did not get off to the most auspicious of starts. The journey down had been one of gloomy clouds and intermittent showers, and as we stood outside Nick and Emma's lovely country farmhouse on Monday evening, hopes were not high for much cricket the next day, or even on the Thursday for that matter. We consoled ourselves in time-honoured fashion: drink.
Unfortunately, the result was that, as we sampled a few local ales in the upmarket beer garden of the Five Bells Inn the next day, the arrival of the sun was not altogether to be welcomed. Frankly, at that point I would have rather spent the afternoon gorging on pub fare and getting quietly sozzled than taking part in anything as strenuous as actual cricket. The feeling was not exactly enhanced by being asked to open the batting against a pretty lively fast bowler on a pitch with some serious pace and bounce. After Henry had taken the brave option and chipped one to cover in his opening over, and Jez had been run out by a brilliant direct hit by one of Clyst Hydon's two Sri Lankan overseas players, it was left to me and Nicko to see off the threat. I pretended to relish it, while quietly wetting myself and wishing I had called for a lid. Nick, meanwhile, uppercut merrily to third man. Somehow, we saw him off and steadily started to prosper against the opposition spinners.
Having done the hard work, I looked to open up by lofting one over cover and promptly hit it straight down long off's throat. I'm rarely angry when I get out, but this time I was fuming and went and sat on my own under the scoreboard in a huff. But, sitting in the summer sun, my grump soon dissipated, as I watched the swallows skimming low over the bright green outfield. "This is the life," I thought. A cold beer and a few fags helped too. Ah, tour! Meanwhile, our middle order began to accelerate against the change bowlers. Nick played some aggressive strokes, Spencer mixed clean hitting with judicious defence, and both Ben and Liam looked solid and unhurried. I especially enjoyed Stanley's innings, which combined a solid technique with some good strokeplay, and the wherewithal to chalk up an average-boosting not-out. I was umpiring for most of it and couldn't help noticing his frustration at not being able to whack as many balls to the boundary as he had hoped. I wonder where he could have got that from… In the end, though, nobody was able to post a significant score and our total of 160 (or whatever it was) looked well below par, especially against a batting line-up reputed to be rather formidable. Tea, however, lifted the spirits. We at the Heath are justly famed for the quality of our teas (chicken tikka wraps, scones, sumptuous cakes and sandwiches, fruit and sundries) but I have to admit that the spread offered up by Clyst Hydon was certainly a match in terms of quantity and diversity. As fast as we could eat them, new dishes just kept on arriving. There was some interesting innovation in evidence too: half-croissants stuffed with ham and melted cheese; mini-Yorkshire puddings filled with chilli-con-carne; roast potatoes... Mmmmmmm roast potatoes.
As a result, we took to the field at once full of food and empty of hope. Our meagre total was bound to be knocked-off in no time by such a powerful opposition. But Spencer had other ideas. Finding a rhythm that has apparently eluded him for much of this season, he bowled with decent pace and excellent control and was rewarded with the wickets of both Sri Lankan overseas players. The first – an inside edge onto the stumps from an attempted square drive – was reward for sustained accuracy; the second was a beauty that nipped off the seam to strike the top of off. Replacing Fiddy, I found turn and bounce on a dry pitch against a batsman intent on cutting even the fullest of deliveries. All of a sudden, the opposition looked a little nervous and the Heath sensed blood. Unfortunately, the half chances didn't quite come our way, I started to bowl increasingly badly, and in the end Clyst Hydon eased home fairly comfortably.
In truth, our total was never enough. After a few beers in the evening sun, it was back to the house, where Nicko whipped up a fantastic chilli-con-carne. By this stage, Luke and Will K-D had turned up and immediately set about demonstrating their value to the club by mixing up some elaborate multi-spirit cocktail from the assorted bottles on offer. Drinking continued. The talk, I think, was of how dismally England were bound to fare in the Test match the next day. Much to our delight, however, it was Australia's turn to collapse in a heap. We spent the Wednesday in a local pub watching as Anderson, Broad and Finn decimated the Australian batting line-up. Then, Ian Bell fashioned a half-century of divinely gilded loveliness, before having a brain fade and holing out off Nathan Lyon. Classic. Meanwhile, Capper, imminent fatherhood approaching, sought a return to his youth through the medium of WKD Blue, Jez bossed the pool table (as ever), and Charlie and I went for fish and chips and a not completely undrinkable bottle of white wine at the local chippie. What next? More food (a belting stew from Nicko), more booze, and plenty of garden cricket – at which Stan proved himself surprisingly inept. Lucky he's much better at the real thing. Against the odds, it was Mikey who, with one particular innings of great fortitude and skill, truly shone brightest in this, the noblest and most testing form of the great game. Friday, day three, was time for our increasingly exhausted team to play our second and final match of tour. So it was off to the ever-so-smart ground of Whimple – complete with advertising hoardings and everything.
I once again opened the batting with Capper, and – inspired perhaps by the salubriousness of the surroundings – compiled an increasingly unattractive half-century. I was eventually run out following a "mix-up" with Will K-D: as I struggled to hit the ball off the square, I'm certain he was only following team orders. Will had no such worries – unveiling an array of reverse sweeps and running the fielders ragged. Again, credit to the opposition for resting their best bowlers, and our eventual total of 230 felt more than competitive. More importantly, tea – a DIY offer this time, with bread and cheeses, cold meats and piccalilli – was once again outstanding. When we came to field, Fiddy was once again the pick of the bowlers, while Luke, me, K-D and Ben all had our moments while never quite managing to assert sustained pressure on the opposition. At one stage, with their keeper batting sensibly, Whimple were well on top, but he left for some reason that I now forget, and we regained the upper hand. But when Capper declined to appeal for a first-ball stumping against Angus (quite literally batting for the opposition, who were a man down) the tide began to turn. Angus proceeded to bat superbly, drilling K-d for two glorious drives. At least two catches – possibly three – went down off my bowling, including a dolly by Charlie at long-off. (Of course, I reacted with characteristic equanimity. – oh wait, no that's a total lie.) Suddenly, the match was away from us, the final act – appropriately – my misfiled off Stanley down on the fine leg boundary. Oh well… Once again the opposition were friendly and fun and who minds all that much about the results when such a grand (and boozy) time is had by all? Massive thanks to Nick for the hospitality, Charlie for his excellent skippering (and some fab tour apparel), Matt for organising the fixtures, and everyone else who contributed something useful in some way. As they say, what goes on tour stays on tour – apart from that prat who insists on blogging about everything all the time… Until next year, then. Chin chin!
Tom Jeffreys


July 19th - Full Tossers - Home - a convincing Win !


Guess who's back? Yes, it's your amnesiac match reporter, desperately trying to recall whatever it was that happened last weekend. It definitely involved cricket. Here goes…

A sublime century from Henry Capper saw Hyde Heath ease to victory by 8 wickets at home against Full Tossers. Set a total in excess of 200 (by how much I'm afraid I can't remember) Capper lost his opening partner, Dom, early. But, in partnership with Shrimpie, he saw off the threat of their opening bowler who bowled with control and gained appreciable bounce off an increasingly low surface. Both batsmen were aggressive against the rest of the attack and even though Shrimpie was out for 30 (just as he was taking control with some severe pull shots), I joined Henry at the crease and mowed an unattractive 27 to see us home, courtesy of some fairly hefty slices of luck.

At the other end, Henry was characteristically strong through midwicket, but whereas he sometimes goes searching for that shot and ends up playing across the line, here he played very straight and it was only at the last second of each shot that the wrists turned to send the ball wide of mid-on. By the time I came out to bat, he was timing the ball better than ever and his batting was a treat to watch. It was entertaining to hear a half-hearted attempt at sledging from the oppo accusing him of only having one shot. By that time he was 103 not out and the match was all but over. He finished unbeaten on 130. In the post-match interviews over a well-earned jug, Henry himself thought it was probably his best his innings for the Heath.


Earlier, Charlie won the toss and elected to field despite possessing a four-strong spin quartet reminiscent of India in the 1970s. Stanley, our only seamer (not for lack of protestation from a certain Dom Haddock), got us off to the perfect start as he pitched one up to their hard-hitting opener who succeeded only in dollying it to Spencer at point. Thankfully he caught it – his fielding thereafter was even worse than mine usually is.

Stanley bowled accurately but without luck. So too his dad Nick, despite really getting some of his off-breaks to grip in the pitch. It was Shaz who ultimately turned the screw on the opposition, mixing up his deliveries with guile and impressive control in a long and probing spell that eventually realised a well-deserved five-wicket haul. At the other end, Adnan, the Heath's young leg-spinner (oh how that epithet brings back the memories!) toiled away without much luck. It was very enjoyable to watch him bowl though – especially as all the recent taunting had led me to assume that he didn't exist! Fortunately, I also bowled four overs of non-turning dross but did at least buy a fairly expensive wicket. Watch and learn, Adnan, watch and learn…

I'm pretty certain some other amusing things happened, but it was a week ago now, and it's been quite a boozy week. Sorry!
Tom Jeffreys


July 12th - Red Square Lions - Home - a gratfying Win !




A great deal of thanks must go to Mikey and Charlie for this match going ahead at all. The forecast was dreadful, but the skipper rallied the team and Mikey got the covers on and the outfield was hard and dry, so that when the downpour came at 1.55pm and lasted a full half an hour, we were able to start just ten minutes or so later, on a decent wicket.

We bowled first, but found ourselves an opening bowler light, Luke was nowhere to be seen and never appeared. Fortunately Stanley Burgham was on hand and was subbed in. It wasn't a bad bowling effort from the Heath, though we didn't quite get our lengths right and were punished by some heafty blows through the leg side when we were too short or too full. Highlights of the innings include a good, quick stumping off Stanley by Henry; an amusing not out decision for a run out that the square leg umpire must just not have been watching; a decent catch on the cow corner boundary by Dom; some excellent field placing by Charlie; Adnan's flight and length picking him up four wickets; and the reappearance of Shrimpy's pink boxers.

We bowled Red Square Lions out for exactly 180, which we felt was below par given the scores that have been racked up at the Heath this year. However having thrown away two run chases in the last two weeks, we weren't counting our chickens!

Henry and Dom got our reply started and Henry got off to a screamer. He looked run-hungry and pummled anything too full to the boundary. He fell in the 40s, but we had a good a foundation. However a couple of quick wickets later (Shrimpy C&B thanks to a devilishly popping delivery and Jez undone by an equallly devilishly straight ball) and we were 100 for 3, well inside the final 20 overs. We needed a ship steadier, a cool headed batsman with plenty of experience. Matt Simms was just the man.

For a good ten overs or so, things were in the balance. Dom though was finally beginning to feel in and had started timing the ball. He and Matt ran fast, called aggressively and put pressure on the fielders, turning dots into singles and ones into threes. In the end their run rate was more than enough and with 3.4 overs still remaining Matt knocked one off his legs and the winning runs were, appropriately, scampered.

Red Square Lions: 180 all out
HHCC: 181 / 3 (3.4 overs to spare)
Adnan Ali 4 wickets
Ben Sonley 3 wickets
Haddock 64 (not out)
Capper 49
Simms 18 (not out)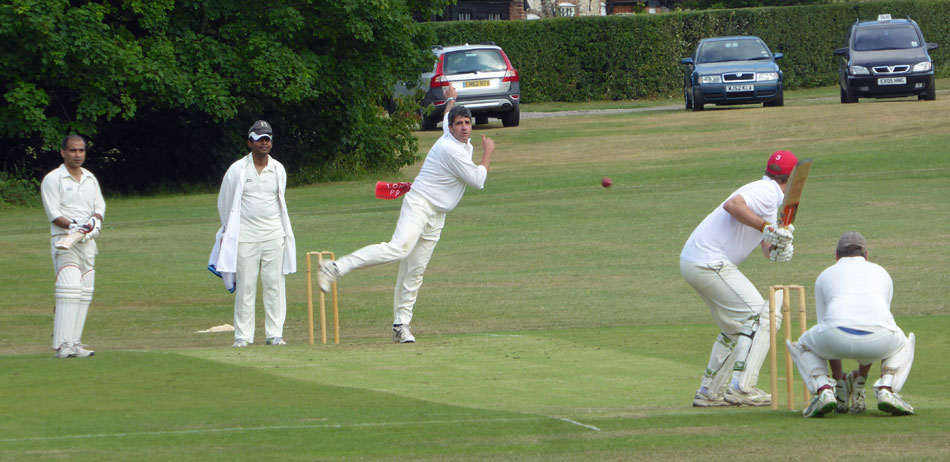 Dom Haddock



Top of Page Cricket Main Page Home




July 5th - Ballinger Waggoners - Home - Lost by a whisker



A close finish, but the wrong result for HHCC this Sunday. We were playing local rivals Ballinger, and one could forgiven for mistaking the side for their under 16s when the crossed the common (the absent TJ's speciality, bowling wise I hasten to add).

We took to the field with a special guest player, whose return to the Heath had been much anticipated (Mr President says he has the best cricket brain of anyone to have played for us, and Shrimpy was expecting a man on a par with Brendon McCullum), yes our first resident Kiwi Richard Howard was back and for one night only. Shame he midfielder the second ball of Ballingers innings, then slipped rather ungraciously on his arse a couple of balls later. Welcome back Rich!

Hang on, I've missed the first ball of Ballinger's innings, and it rather set the tone. Plumb; stone dead; missing off, missing leg and hitting middle half way up; more out than Graham Norton. All things that could have been said of Ben's first delivery. It was given and as you can imagine, your correspondent (behind the sticks so could really properly tell too) was a picture of calm understanding. This went on though, two more really really really out LBWs and a (direct hit!!) run out by Adnan weren't given. Your correspondent become less calm and understanding each time.

To the bowling. Ben was at his nagging, miserly best and very tough to get away. Luke (having missed the first over, presumably for a nap knowing him) was fast, nasty and his fuller length got him a couple of excellent wickets. Umar made things happen, found inside and outside edge but could quite make a break through. Richie bowled a brisk pace and kept the batters on their toes with good change ups. Nick blowed his offies to great effect, getting a lot of turn. Adnan bowled with lovely flight and also a good amount of turn and picked up a wicket thanks to (a brilliant! well, sort of 'fine') stumping.

That being said, Ballinger still manager to tick over nicely, it was a really good pitch to bat on and a lightning outfield (top work Mike-me-duck!). And with a bit of help from the umpires they made their way to 238 at tea.

What a tea! Best of season so far? I think so. Thanks Mum and Mrs Cousins.

Shrimpy and Dom (gotta love the third person) got us under way again. Ballinger broke the unwritten code of not opening the bowling with spinners, particularly those that actually turn it. After Dom politely chipped a full toss to mid off (sh** takes wickets) Shrimpy and Luke Brennan took Ballingers bowling apart. Note, these were no mugs bowling, the seamer had decent pace and nipped it away and the leggie and offie were both very good. But the HHCC young guns were up the task. Lusty blows, straight out of the text book took Luke to 61 and when he departed, we were well set for victory. Shrimpy looked like he was taking us home, even when Ballinger stuck nine men on the boundary to him, yes NINE, that's all bar bowler and keeper, he still managed to skip down the wicket and pick out gaps. He finally fell for 111 (Nelson) and we haven't seen a better ton at Fortress Heath for a while. It's worth noting that each time Shrimpy has reached 50 for HHCC the season, he's gone into get a hundred. Oppo beware, do not let this guy get in.

The Heath continued going for the chase, Will Cousins smashed it all over the place for a while and kept us in the contest for a good while. However in the penultimate over, we lost our ninth wicket and shut up shop. We lost our tenth wicket on the penultimate ball. A shame, sure, but given that we only fell 14 runs short, that we went for it till the end, that we saw a couple of individual excellent performances (two jugs!) and that we got to play with our old mate Richie, not a bad old day at the Heath.

Dom Haddock



Top of Page Cricket Main Page Home



April 26th - Bank of England - Away Win !


In typical first match of the season style 2pm came around with only two players present at the Bank of England's fantastic Roehampton ground. With skipper for the day Luke Brennan along with four other players held at the mercy of west London's traffic , Henry Capper stepped up to the plate to perform the toss. Employing the tails never fails method immediately meant the heath lost the toss and were put into bat. In reaction to this disappointment from Henry came the first stroke of genius captaincy from the stand in skipper. Capper and Cousins Jnr versions were sent in to provide a stable base for the heath's first innings of the season.

Henry producing a much valued 23 was upstaged by a scintillating 58 from Will Cousins, who at the drinks break decided ask the awaiting batsmen what he was on, a reply of 49 was perhaps not what he wanted to hear, yet with ice cold composure he pushed through to his final total providing a strong start for the remainder to build on. Five average batting performances from the middle order with scores ranging from 16 to 35 meant the heath declared on 215 for 6 of 35 overs, no help from Olly Hargreaves who fell victim to the first duck of the season after just 3 balls.

Ben Sonely opened the bowling attack after a cracking season last year, in a bid to redeem himself Olly Hargreaves joined him at the other end. Four early wickets from Hargreaves did exactly that, putting the bank on 15 for 4, one more from Sonely increased this to 16 for 5. An effort from batsmen 5 and 7 took the bank to 40, until Will Lankston took a wicket on his debut for the club after sampling many a beer on the boundary over a number of seasons, a good take from Henry down the leg side meant the heath were back to wicket taking ways. Two clean bowls from kit Gammel and Uzi saw only more to be taken to close that game for the first win of the season. Some consistent bowling from Ali Precious at the death proved too much for the bank's tail end, a thick edge coming from a descent pace sent one straight down kit's neck at second slip who after a bit of juggling held a stunning catch to seal the opening game of the season for Hyde Heath.

Bank of England finishing on 89 all out.

Noticeable figures:

Ben Sonely- 7 overs, 3 maidens, 1 wicket for 5 runs

Olly hargreaves- 7 overs, 1 maiden, 4 wickets for 27 runs

Will cousins- 58

Luke Brennan